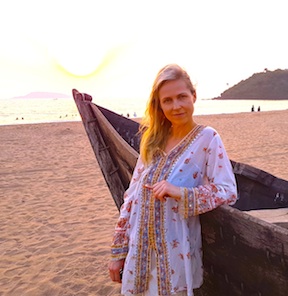 PAINTING RETREAT IN
GOA INDIA
January 7 – 15  2018
12 spots available
Here's a perfect place to spark your creative soul and see India through an artistic eye.
I will be offering daily art workshops and demos designed to recharge or kickstart your painting practice:
sculpt – photograph – sketch all levels of art experience are welcome!
Explore painting with a fresh approach in mixed media and more.
BONUS. . . Morning yoga, sunset walks, healthy food and massage all to help rejuvenate your well being. It is a hub for dynamic and art-minded travellers.
for more info:
***************
 Basic supply list:
paints:                                                       supports:                                                      brushes:
yellows– cadmium and hansa lemon            canvas paper or canvas board or mesonite      a range of sizes- round and flat
reds——-cadmium and alizarin or rose          stretched canvas for advanced students           synthetic flat and round (# 3 – #8)
blues—– ultramarine and pthalo                                                                                          one large natural bristle
titanium white
mars black 
Create your own class:
If you would like to set up your own schedule, classes can be arranged with a 10 student maximum. These are based on 2 or 3 hour sessions. Times and dates are flexible within a 2 month period. Five session periods must be paid in full at the first class.
one session                           five sessions
private:              $40 / hour                                 $35 / hour
semi-private:      $25 / hour per person                 $20 / hour per person
Depending on the nature of the class, time can be set aside for studio work at no charge.
**to register for any of these courses or workshops, click on "contact" at the top and send me an email. My studio is equipped with easels. Classes are kept small (usually 5 max) , early registration is recommended.